This is from 2003 | 8 minute read
User-Driven Brand Design: Establishing a Convergent Brand Experience
In collaboration with Ashley Menger
Introduction
Technology-driven interaction design projects have traditionally been built by graphic artists, usually trained in the classical methodologies of print design, and run by project managers, usually trained in the classical methodologies of advertising and marketing. The scope of these projects tends to reflect the corporate cultural understanding of the importance of brand; traditionally in-your-face, lowest common denominator companies have neglected the web's inimitable benefits as a marketing and communication tool and have instead simply mimicked their offline campaigns online.
And on the most primitive levels, this methodology appears to work. Yum! Brands has positioned Pizza Hut, Taco Bell and KFC online in a very traditional and simple fashion, giving customers the opportunity to view their menu, learn about the fat content in a thigh of fried chicken (25 grams), and most recently, order a pizza online from http://www.pizzahut.com.
The Medium is the Message: McLuhan, not Gore, invented the Internet
But this strategy ignores basic trends in technology and design: trends towards convergent media, immersive brand experiences and a world where consumers participate in and generally shape the way a company fits into their lives. Established brand leader Nike has positioned their online experiences as just that - experiences - and directs consumers from their print ads to their websites, from their websites to Nike Town, and from these stores back to more printed collateral. Overnight brand success Mini Cooper has integrated PDA technology in-dash, allowing consumers to transfer data between their pocket PC and the electronics of the car. And presidential hopeful Howard Dean has established himself as the first-ever political brand; his online web-presence incorporates mobile alerts and blogging, and is overshadowed in impact only by his use of the internet to schedule real-life meetings.
These immersive, multidimensional brand experiences transcend (and sometimes reject completely) the "web browser" as the method of delivery and instead exploit each unique medium's capabilities - cellular as portable, print as static, television as obnoxious and in-store as opportunity. The overwhelming and intangible nature of designing these large strategies demand attention from individuals with extremely diverse skill sets. These designers passionately explore from a user, goal and brand perspective outwards rather than from a product or campaign perspective inwards, giving them the latitude to allow process to drive product.
The methodology required to understand and develop convergent brand strategy demands a new, broad and total understanding of three areas of expertise: visual design, interaction design and user-centered product design. These skills are often manifested in the fields of Print or Graphic design, Interactive or Web Design and Industrial Design, respectively. But the demands of the convergent design problem blur the lines between disciplines, and have created a requirement for process centered holistic design - a repeatable methodology centered around a thorough understand of the target user.
In her MFA thesis, Ashley George Menger explores the impact of User-Driven Brand Design as a way to create a cohesive brand experience targeting a specific enigmatic audience: teenage girls. As described below, her research and process requires an in-depth understanding of contextual-based user research, graphic design, logo and mark creation, industrial design, and interaction design. By allowing user goals and higher level needs to drive the design process, Menger has created a multi-dimensional brand that fits dramatically well into the lives of her users, and has illustrated the success of a User-Driven Brand Design process.
Process Driven Contextual Design: Teenage Girls Hold the Keys to Brand?
Designing for teenage girls has long been viewed a daunting task; understanding the complexity of identity as teens search to integrate Maslow's hierarchy of needs is compounded in young woman as they struggle to cope with a media blitz of self image beautification. Popular music, teen magazines and blockbuster movies all emphasize the need to be thin, popular and successful; teenage self-mutilation is at a historical high. There is clearly an opportunity to affect social change within this group while offering products or services to these young woman.
This clinical analysis, while academically correct, does little to direct a designer towards a solution; pointing out existing problems and identifying a niche market is only the first, and easiest step, in a long iterative process of design thinking. Given the emotional quality of the target audience, as well as the technical prowess the majority of this demographic have grown up with, the only guaranteed method of understanding the end user is to become one. Menger joins the girl scouts for over a year, utilizing Goodall-style ethnographic research techniques; she alters her clothing, her musical preferences and her reading material to mimic that of a thirteen year-old-girl. By exploiting traditional contextual-based user research methodologies in search of brand identity, Menger becomes one with her target audience and accurately identifies a design direction: alleviation of fear within teenage girls, encouraging woman to purchase and utilize empowering services and products.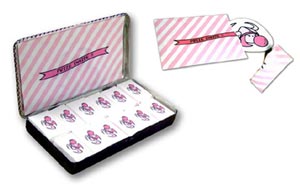 Similar to any other brand proposal, Fearless Girl has a logo, a color style and a rollout plan. But the proposed Fearless Girl brand has a foundation grounded in a conceptual and pragmatic understanding of audience, needs and goals, and the planned viral introduction of the brand truly illustrates an understanding of convergent user-driven design and branding. Quite simply, Menger proposes an introduction of the brand through chewing gum: simple, cheap, ubiquitous and easily accessible to the target market. The gum, found in a unique tin, promotes exemplary woman role models on the back of the container and encourages display of the package; a "prize" inside (in the form of a sticker, fake tattoo, or hair scrunchy) further promotes the brand. And the brand itself, marked with the devious Valkyrie-inspired viking chomping on hot pink bubble gum, serves to empower and emphasize a truly empowering statement: Fear Less, Girl!

As there is no distinction between the graphic design of the brand and the brand itself, the domains have truly converged; additionally, the gap between product and brand ceases to exist, as the product is traded, collected and consumed all at the same time. The brand itself, then, is traded, collected and consumed as well!
Technology Supports the Brand; Interaction Creates It
Before introducing an initial product, many marketing plans call for pilot studies or initial data gathering; having already accomplished this research during the conceptualization phase, Menger proposes an immediate influx of the brand into as wide an infrastructure as possible. As the brand grows, innovative follow-on products are introduced. Chewing gum is a vehicle for recognition; as the brand value of Fearless Girl grows, so too does the complexity of the Fearless Girl line of products. And in the spirit of convergence, each product relies on form, imagery and user interaction to successfully illustrate the brand's message.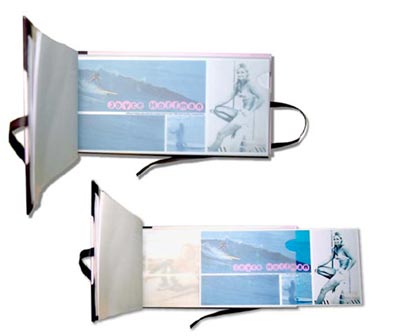 The "postcard journal", an innovative approach towards journaling, creates a delayed relationship between Fearless Girl and the user; noting the popularity of diaries among her target audience, Menger has developed a system that incorporates product intertwined with the wonder of a surprise, extending the brand experience over time and utilizing a flavor of memory morphing. After creating a journal entry, the teenage girl mails the postcard to Fearless Girl. The company holds the postcard for a period of time, and then mails it back to the user.
Brand impression aside, the journal continues the socially conscious message of enhancing self-image amongst teenage girls; the postcards feature "fearless" woman chosen from recent history. These woman, although not highly political or well known, illustrate specific figures chosen for charisma, lifestyle and inspiration; these include Joyce Hoffman, World Champion surfer, and Peggy Oki, a prominent skateboarder from the late seventies.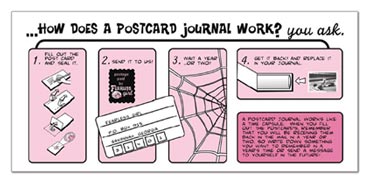 Technology supports the brand, as the back-end organizational techniques necessary to maintain a successful rapport with the target audience directly mirror that of a customer-relationship management system. Yet this technical interaction is a support function for the organization rather than a visible aspect of the product; the user interaction, although conceptually complex, is broken down into easy-to-follow instructions.
Fearless Girl : Convergent Thinking Embodied in Brand
The contextual research process discussed above calls for the designer's integration into the user's culture in order to acquire a primary understanding of the lifestyle and semiotics. As Menger explores from a user, goal and brand perspective, she is able to utilize process centered holistic design - a repeatable methodology centered around a thorough understanding of her target audience. Crossing this cultural divide enables a unique understanding of the users' emotions and then, returning to the position of designer, offers the ability of perspective. This process elucidates a true user-centric criteria to begin the design conceptualization phase and leads to a product of inherent cultural resonation.
The Fearless Girl brand has been developed by an Industrial Designer, yet focuses on visual and graphic design to establish a highly unique and focused relationship. This combination - product, graphic and interaction - is essential to successfully develop an immersive, multidimensional brand experience. Products can have a momentary effect on the way people think and feel about themselves. Convergent brand thinkers need to acknowledge a product's everyday ability to trigger a mood or an opinion and the cumulative psychological effect. This consideration will not only promote well-being, but also prevent situations of the adverse effect. Products that invite the user and allow for sensory input inspire feelings of ownership, harmony, and connection; brands that follow this methodology will dictate the convergent, immersive, multidimensional experiences of our near future.
Citation

Kolko, Jon and Ashley G. Menger (2003), "User Driven Brand Design: Establishing a Convergent Brand Experience" In the American Institute of Graphic Arts's Tweak, Q4/2003.